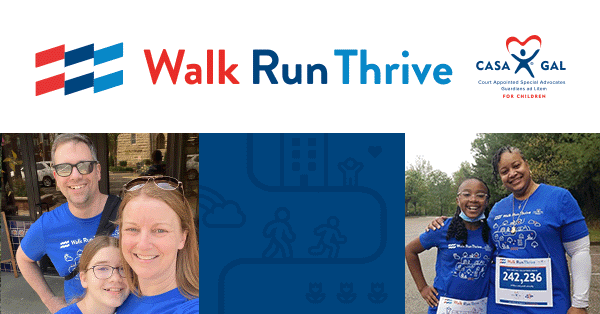 Are you ready to step up for children and youth in the child welfare system? Join supporters of CASA and GAL programs across the country for our third annual Walk Run Thrive to raise awareness of and support for the critical work of the National Court Appointed Special Advocate (CASA)/Guardian ad Litem (GAL) Association for Children.

National CASA/GAL is leading a nationwide network of CASA/GAL programs, each of which recruits, trains and supports volunteers who advocate for the best interests of children and youth. Having a CASA or GAL volunteer —someone who checks in, follows up, holds the system accountable, and puts the child's best interests before all others'—makes all the difference for a child in foster care.
Rather than traveling to one central location on a specific race day and time, you can walk, run, bike, roll – or be active in any way – wherever you are, choosing your own day, time and pace. No matter how you choose to participate, you will be part of our nationwide movement of individuals who are making a difference in the lives of children.

Join us as we walk (or run) to help children and youth thrive.