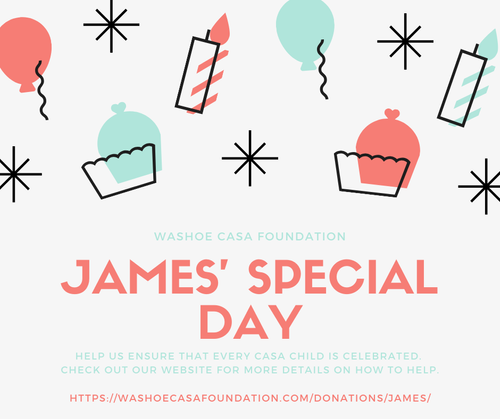 James' Special Day
Every child deserves to be celebrated, whether on their birthday, their first day of school, their graduation, or for any day that warrants a little something extra.
Many of us take the simple act of blowing out candles every year for granted, but for the hundreds of children in foster care in Washoe County this simple act is not a guarantee and for some, it is something they have never experienced.
On his tenth birthday, James revealed to his Court Appointed Special Advocate (CASA) that he had never blown out candles, he had never had balloons, or unwrapped a gift. For ten years, his birthday passed by just like every other day. Until, his CASA decided James' tenth birthday would be different. His CASA was able to throw him his first ever birthday party – a smiley face themed party – complete with cake, balloons, candles, and most important his siblings, who were in separate foster placements.
The James' Special Day (JSD) program aims to ensure that every CASA child is celebrated and has the opportunity to have a birthday party or a special day for any occasion.
A child's special day will be dependent on their wishes. Here are some examples of how CASA helps children celebrate JSD:
$300 – bowling party for the child, their friends, and family
$250 – party at an event/activity space
$100 – celebratory dinner for the child, their friends and family
$50 – classrooms treats to celebrate with their school friends
$20 – birthday or celebratory cake and candles
Our James' Special Day program is one of the ways your donation can support CASA children. Please click here to donate to the Washoe CASA Foundation. Thank you for your generosity.