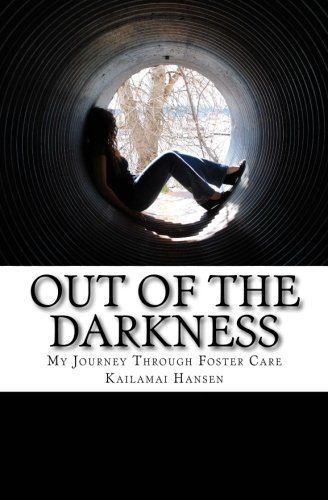 Out of the Darkness: My Journey Through Foster Care by Kailamai Hansen 
It wasn't until that foggy morning of February 2001 that everything changed. I was in my middle school counselor's office and for the first time, someone was asking me to tell them the truth.
I took in a hasty breath, a tear making its way down my cheek. My knees knocked as fear rushed through me.
"Now dear, tell me what happened." She leaned her petite figure in, her gentle face peering into my eyes, brown hair falling forward. I could sense her concern but still I hesitated.
Silence.
"How's your life at home?" she questioned.
Silence.
"You can trust me."
In that instant, I mustered up the courage to look up at her. Something about her sincerity soothed me. I sensed something unfamiliar, trust. The floodgates holding my pain were bursting at the seams, and I could no longer hold ground.
It was then that I told my story for the first time and from that point forward, my life was never to be the same.
Kailamai Hansen sat down to her first family dinner at 12 years old.
Hansen spent most of her young life bouncing from foster home to group home and back to her biological mother's home. She was physically and emotionally abused from the time she was very young until she was about 16.
Now 26, Hansen uses her story of beating the odds as a message to the troubled youth of Idaho. Leading by example, Hansen is in her senior year at Lewis-Clark State College and said she plans on pursuing a law degree in 2017. Hansen grew up in Kellogg and now lives in Lewiston.  By TOM HOLM - Associated Press