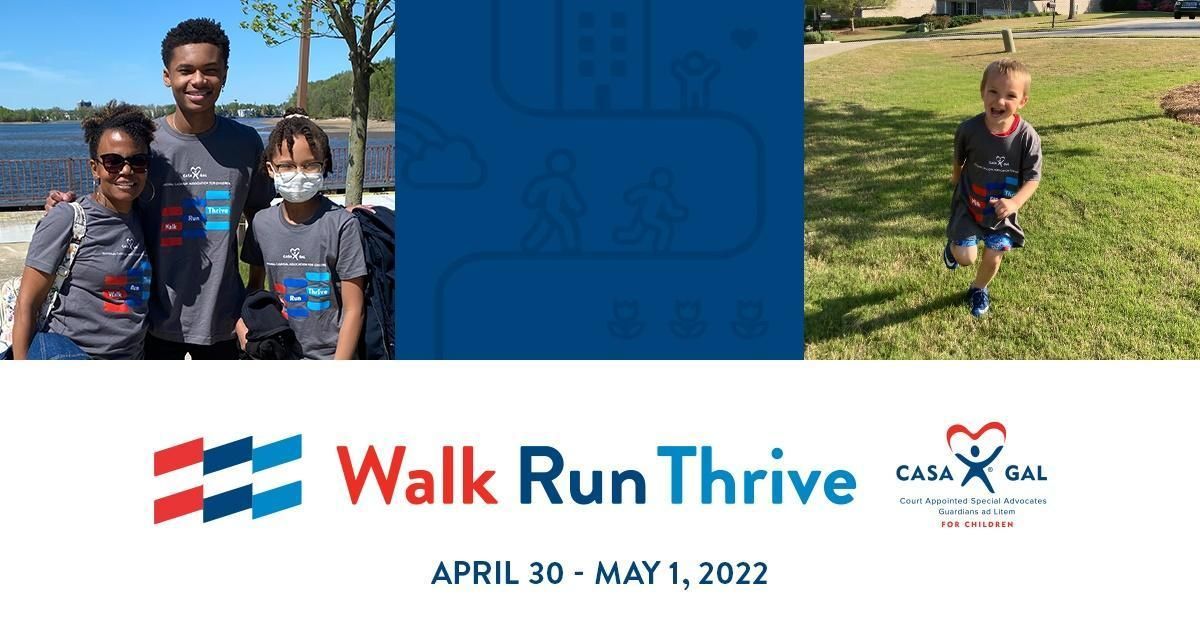 Grab your running shoes and join us on April 30-May 1, 2022, as CASA/GAL supporters from across the country come together to help raise awareness for The National CASA/GAL Association for Children and its network of 950 state and local programs.
Walk Run Thrive is a virtual event, so you can walk or run wherever you are. You get to choose your own day, time, and pace. Whether you challenge yourself on a run or take a leisurely stroll, you'll be a visible part of our movement of dedicated individuals making a difference in the lives of children who have experienced abuse or neglect. 
Don't want to walk or run by yourself? Put together a Walk Run Thrive team and make a bigger impact. The children served by CASA/GAL need your support now more than ever.
Join us by registering today
While Walk Run Thrive is sponsored by the National CASA/GAL Association for Children, abused and neglected children in Nevada need your support too. Did you know...
There are over 4,000 children in Nevada's foster care system?
Due to a shortage of volunteers, local Nevada CASA programs served 1,689 children in 2021 -- This was a 27% increase over the previous year
Children in foster care who have a CASA volunteer tend to be in foster care 4-6 months less than a child without a CASA 
Meeting the legislatively-mandated requirement to assign every abused and neglected child in foster care a CASA volunteer would save the state of Nevada an estimated $3,400-$5,000 per child
You can make a difference by participating in Walk Run Thrive, donating to Nevada CASA, and/or learning more about volunteering. Start making a difference today!  
This year, the National CASA/GAL Association is celebrating its 40th anniversary and you can show your support for our vital mission and the impact our programs and volunteers have by registering today. As part of your registration, you'll receive a stylish commemorative t-shirt.